When was the last time you saw an entire team together in the office? A rare event. Terminations are conducted by Zoom and no one wants to pick up the phone anymore. Emotions are conveyed by a small set of icons. We are a heavily digitized and distanced workforce.

The role of the manager has changed, but many leaders missed the transition. Employees mourn the loss of hallway conversations that sparked innovation and made them feel like they belonged to something.

Leadership training is sporadic. One-on-one coaching is rare. Leaders have no idea what remote and hybrid leadership requires and the physical separation allows the relationship gap between team members to widen.

However, that's not true everywhere. While the world lists inflation and hiring as top leadership challenges, Ukrainian managers put the physical and mental safety of employees at the top of the list. With a backdrop of bullets and bombs, they recognize that threats to well-being trump everything else. They cannot afford to take a casual approach to leading their people.

Your leaders need that same perspective, particularly during an organizational transition. Change demands that every manager:
tell the same story about the future,
reiterate the benefits of persevering,
generate a sense of purpose,
help people learn and prepare, and
coach people through fears and resistance.
This requires influence and it's impossible if leaders are disconnected from their teams. Leaders in Ukraine adapted to ensure they could help their teams adapt to the toughest conditions imaginable (source, EY 2023):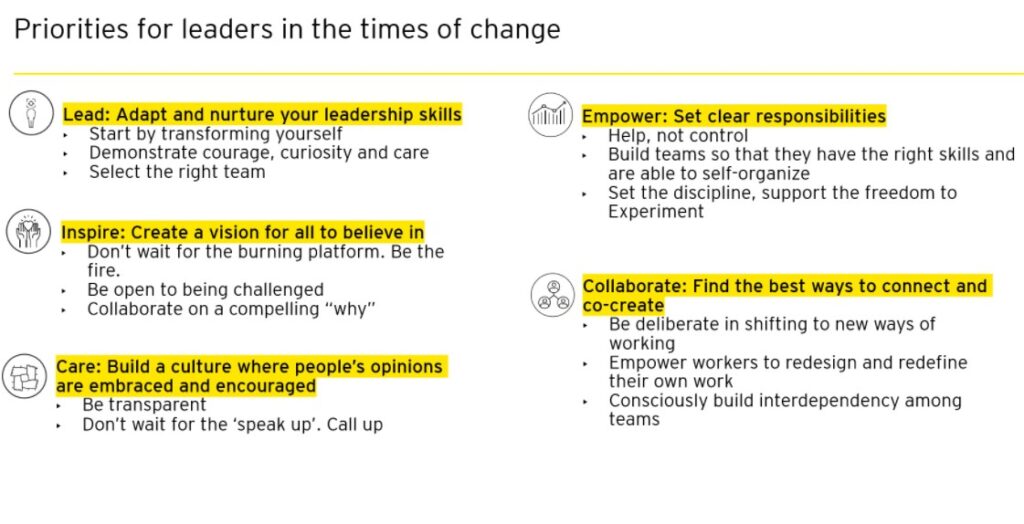 This gives us a recipe for reducing emotional distance and inspiring action. I've added a few more that are very effective for increasing employee connection.

Are your managers equipped to lead hybrid teams? Are they ready to coach people through change? "Don't wait for the burning platform. Be the fire." Emotional distance is risky. Just ask the Ukrainians.