Top Tier Marketing Tactics On My Summer Vacation
How do businesses drive increasing levels of growth and revenue? A recent trip to Costa Rica demonstrated how by focusing on a few basic tactics.
We were looking for fun activities and in short order came across El Santuario. They boast the longest zip lines in Costa Rica, where two people can race head-to-head for over a mile, sailing over the rainforest. It is indeed awesome! And they are doing a brisk business, even in the rainy season. Here's how.
1. Set The Target on Fantastic Outcomes
On arrival, one of the first statements from the leader was that that we were all there to have a great time. Need anything? Just ask. Why? Because "we want a great review on Trip Advisor!" They already rank as a top activity, but to stay on top you need an avalanche of current positive reviews.
A CEO in retail recently told me about his frustration that a VP was not delivering with the urgency expected. "Did you give her a deadline?" "Well, no, but she should have understood how critical it was." I commonly see leaders I'm coaching set expectations with no timelines, assuming that telepathy will make them clear. Not a chance. And targets with no purpose never inspire higher performance. Make the outcome clear and connect success with appealing outcomes.
At the outset of a project and in daily meetings, start by setting goals. What do you want your subordinates to achieve? What is the expected outcome for the business, team and individual? How does it fit in with mission or values?
2. Add Value
We had an amazing time sailing across incredible valleys and tree canopies. Afterward, the guide told me that by booking the trip online I had merited another discount for the photo package. It was a good deal so I bought it. Next, everyone was presented with a coupon for 20% off our meals at their partner restaurant back in town. We enjoyed the savings that night.
Recently I've spent considerable time in front of employees for a Canada-wide client as we roll out a new payroll system. With access to large audiences, I used the time to not only prepare people for the new system, but also to introduce a new portal that is becoming available. It costs me little to provide the additional information, but is highly valuable for the audience (single source for information, only one meeting to attend) and for another department (IT doesn't need to run its own campaign). For the same price of time and attention, I'm able to accomplish two goals bringing added benefit to employees and leadership. This is both time- and capacity-efficient. People like that.
When you are delivering service to clients, customers or peers, how you do you package in additional elements for greater results?
3. Make it Easy to Share the Experience
Just a day after our ziplining adventure, I received a follow up email inviting any feedback, but more importantly, a direct link to Tripadvisor to rate our experience.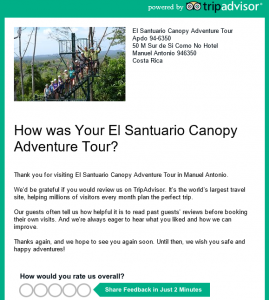 After facilitating some leadership development sessions, members of the client team approached me with thanks for taking a refreshing, engaging approach which they had not experienced before. I thanked them for their kind words and asked them to consider writing to the CEO to relay what was working for them. If they hadn't (they did), I would have written it up myself and sent it on their behalf. I request quotes from people who attend my workshops so I can share their experience with others. People want to know what the experience is like from their peers. It reduces fear.
Of the ten tour operators we worked with, only one applied these three simple tactics. None of the others applied ANY of these strategies. Guess who's getting the five-star rating?
Thoughtfully Yours,
Jeff