While preparing for an executive review at The Salvation Army, we took a brief pause and the CIO said, "Jeff, I thought you'd want to know that I heard one of my managers tell his team that he was going to exit a call because he wasn't needed. They could handle it without him." Another hour back. That made fifteen hours a week reclaimed for his team already!
In that moment I realized that the most precious gift I give to my clients is that of time. And they reinvest that gift well: Contemplating, discussing and mapping their future strategy, playing out challenges so they are prepared to respond with excellence, and determining how to move people from adequate to amazing.
While I've been consulting for more than twenty years, building my own practice into a multi-million dollar business, the last two years have been particularly different.
After completing a string of successful engagements with Bayer, Suncor, Enbridge, and Goldman Sachs, I needed a change. Unsure of what to do, I pursued every shiny object that crossed my path, investing time in technology and marketing that distracted me from my personal development and the growth of my company.
The problem was that I had no gauge for evaluating what would make me most effective. I was saying yes to everything, driven by my inherently thoughtful nature. People love it (and me) when I say yes! But I wasn't sure where I was going or why I was going there.
Val Wright has always stood out as an extraordinary leader, exemplified by significant success with companies such as Microsoft, Amazon and BMW. She is the author of Thoughtfully Ruthless, an award-winning book and concept that embodies a modern day approach to leadership.
Val explains that the misnomer of leadership is you have to either be thoughtful, well liked and caring, or you have to be ruthless in a Game of Thrones style charging through work with a sledgehammer swiping everyone out of your way. In fact the opposite is true, you have to be both thoughtful and ruthless at the same time by being laser-focused and intentional with how you use your energy, time, and resources and that of your team.
Just like successful athletes surround themselves with advisors to keep them at the top of their game, I did the same. After hearing Val speak and meeting her at Alan Weiss's Million Dollar Consulting Convention , I hired Val as my business advisor and we began reconciling my natural thoughtfulness with a ruthless approach to using my resources strategically. In just 24 hours we mapped out the first steps that moved me onto the fastpath to greater success and satisfaction.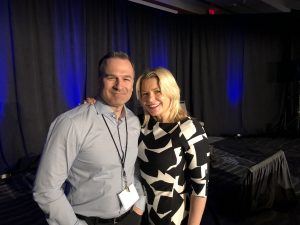 Thoughtfully Ruthless® leaders do not leave business results to chance: "Every decision is deliberate and every moment is purposeful. They do not worry whether everyone will like them or agree with them. Making people happy isn't one of their goals; yet, they attract and retain happy people because of their relentless focus and predictable business success." They are thoughtful about the future, about people, while also ruthless in pursuit of goals and accomplishment of tasks.
Today, I'm a recognized speaker who travels regularly, works comfortably from Victoria to Rome, simultaneously serves multiple clients, works exclusively with executives and rising leaders on strategy and personal development, innovates and writes regularly, all while eliminating 10 hours of work EVERY WEEK. And most of all, I'm happy! Thoughtfully Ruthless® has been the guide for assessing all of my assets (much more than I realized) and putting them in service of not just my own goals but my clients' as well.
The shift in my life was so significant that I certified as a Thoughtfully Ruthless® consultant, enabling me to act as an advisor for executives, boards and entrepreneurs who, like me, need help supercharging their business results.
An important part of being a Thoughtfully Ruthless leader is to not just be brilliant, but be brilliant at demonstrating your brilliance, so here is what my clients have to say about the results I create:
When we considered who could help us implement a major strategic shift in our organization, Jeff stood out as someone who could not only bring my ideas to life, but also help provide guidance to our leadership to make our service program real. We couldn't have done it without it him!
~ Jennifer McCue, CEO, Bethany Care Society
My clients also identify the following results of my Thoughtfully Ruthless® advisory work:
Reduced meeting time by 50%
Eliminated 250 emails and massively curtailed incoming mail
Built their first strategic plan
Created a framework for assessing risk and strategic prioritization of tasks
Feel happier and healthier
Secured a major raise based on increased performance
Gained 25% of working time back
Getting Started
What would you do if 25% of your working week was freed? Could you create a more extraordinary team? A more extraordinary you? Finally finish that project that's been sidelined for years?
More than a state of mind, being Thoughtfully Ruthless® encompasses a wide array of practical approaches to manage every situation a leader faces while also setting out a framework for leapfrogging ahead of your current state.
When I began this journey I had no boundaries between work, family, and personal time. I was not growing. I had to-do lists a mile long. I was way too thoughtful and not-at-all ruthless. To become a strategy expert, executive confidante and well-travelled speaker, I began with three steps:
Realign Your Life: Ruthlessly identify activities that you really don't enjoy or are slowing your progress and determine how you can get them off your plate in the next 6 months (if not next week).
Establish your Circle of Advisors: Thoughtfully consider who can support you, challenge you, and push you farther. Pursue those relationships. Ruthlessly say not to meetings with people who suck up time and energy.
Dream Bigger: Thoughtfully consider your future. Most people are not looking ahead so they never get anywhere. Envision your dream life so you can ruthlessly pursue it. Having a clear target is half the battle.
Just three things? Yes. Three HUGE things. They form a foundation for success that is unshakeable. Want to know just how Thoughtfully Ruthless you are? Download a free Executive Assessment here. Send it back to me and I'll send you your report with some fast insights for your growth. I'd be thrilled to promote your success!
Thoughtfully Yours,
Jeff